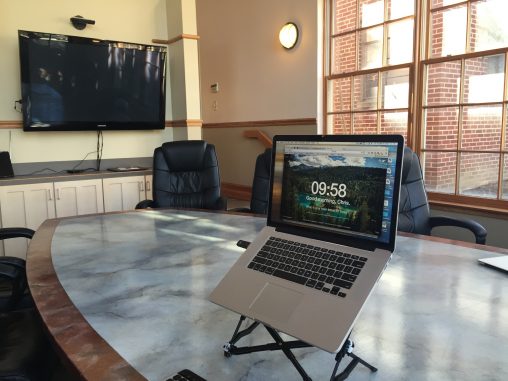 Does Richmond need a coworking space?
I think it does.
If you're not familiar with the term, a coworking space is a shared work environment where people who are often doing different things for different organizations/businesses come together and get stuff done. They're quickly becoming a central part of "the new workplace" and the growing phenomenon of distributed organizations.
Some coworking spaces focus on the efficiency of shared resources (not everyone needs to rent a dedicated building, sign up for a dedicated Internet connection and buy a dedicated printer), some focus on shared values and interests (tech startups, freelance writers, industrial designers), and some are just meeting a need for flexible, open office space.
Many coworking spaces have dedicated meeting rooms where you can go to have a more private conversation or take a phone call. Some coworking spaces are paired with "maker spaces" where people can use 3-D printers, shop tools and other resources to prototype their ideas, experiment with a new electronic gadget, or just play around.
Several weeks ago I visited The Salt Mines, a coworking space in Columbus, Ohio. They have converted a fairly nondescript house in a mixed use district into a beautiful coworking space – high ceilings, great natural light, simple but elegant fixtures. It had several large workstations – some rented permanently by specific people, some left open for rotating visitors – along with a conference room area, a mini-kitchen and some bathrooms. I gathered there with a few of my colleagues from Automattic who live in the region, and we made a day of getting our own work done while in the same room together. It was awesome!
Coworking! This place is beautiful. pic.twitter.com/lQuheu0mVv

— Jen Solo (@jennypixels) March 31, 2015
Bloomington has Cowork. Indy has The Speak Easy. Muncie has the Innovation Connector. These spaces are popping up everywhere.
Richmond does have the Innovation Center downtown.
While it hosts some kinds of coworking-ish events, it was primarily designed as a business incubator and event space, with lots of individual office suites and meeting spaces instead of more open spaces that lend themselves to coworking and collaboration. Still, a number of remote and freelance workers, small startup businesses and others have found their temporary homes there, many of them gathering for lunch and other events as they can. It's also great that a membership at the Innovation Center will also get you in to many coworking spaces around the state.
But it seems like a week doesn't go by without hearing about someone else who is living and working in Richmond for a business/organization that is located elsewhere, and who would eagerly make use of a coworking space here. It's not that they want to go there all day every day; many of them, like me, are happy to work from home sometimes, travel somewhat regularly, or just enjoy the variety of working in a bunch of different places. But whenever I've met up with them at Roscoe's or similar spots to cowork together for a few hours, we almost always end up talking about how it would be nice if there were some kind of coworking spot in Richmond.
The great thing is, starting a coworking space wouldn't require a large investment. Many people get them started them informally by arranging with a cafe, coffee shop or similar spot to have recurring "coworking hours" one or two days a week. If there's enough interest, there are many types of buildings that could easily be made into a basic coworking space – we certainly have enough empty retail, warehouse and residential space in Richmond that I think we could find some good options. And if someone really wanted to make a longer-term business out of it, there are plans and details online to help figure out a membership model, financing, management practices, etc.
This isn't to say that all workspaces should become coworking spaces or that there isn't still value in an organization having a dedicated space for its staff. There are many kinds of work that still require traditional offices.
But if Richmond wants to be a more welcoming destination to the growing population of freelancers and remote workers (who are often able to generate above average income), I think having a good coworking space would be a great next step.